For a day, a week, a month, a full year, Navigli Working Factory offers large working spaces in a modern open-space environment, fully renovated in March 2016.
Located in a very recent building, in the heart of beautiful "Navigli District" (Milano's heart) and of the Navigli Park, it can be reached with an easy five-minutes walk from the Porta Genova metro station (green line).
Traveling from the offices to EXPO 2015 is also very convenient as the subway (after changing from green to red line at the Milano Cadorna station) stops at the heart of the main exposition center (Rho).
You'll find fast internet, wi-fi, printers, scanners, xerox machines, meeting rooms, lockers, shelves, phone/fax lines, and secretary services, beside coffee and fresh-drinks which you can enjoy on the dedicated dehor.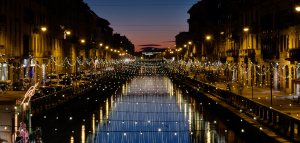 The Naviglio Grande at night. Exit from work and enjoy excellent pubs and restaurants
In case you are driving, you can book a very convenient and cheap parking place within the same building.
A team of professionals, able to organize events, press-office services and marketing activities is linked with the activities of our service center, as well as a group of accountants, ready to assist, e.g., in fiscal matters.
We invite you to visit our working spaces at Ripa di Porta Ticinese 77 and/or to ask any information via email at info@navigliwf.com. You can also call us at +39 339 728 5258: we all speak english.
In a different article
, the New York Times again suggests to try the "relaxed movida in the Navigli district".  This is exactly where we are! After a full working day just get out of the office and enjoy dinner or a drink in one of the 100+  fine pubs, pizzerias, restaurants or trattorias.
Coworking Milano, Navigli-Porta Genova